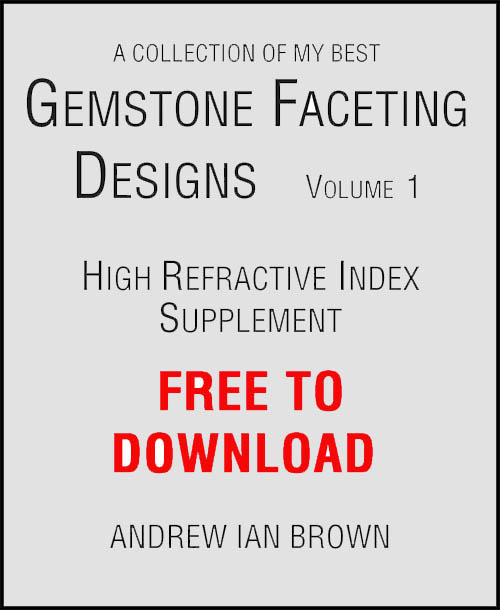 A collection of my Best Gemstone Faceting Designs Volume 1
High Refractive Index Supplement
By Andrew Ian Brown, PDF, 46 pages
You will notice in my designs book, 'A collection of my best Gemstone Faceting Designs Volume 1', the recommend refractive index (RI) ranges have a maximum of 2.16. This was largely due to me only cutting materials with an RI below 2.16 and it does not reflect the true range of RI the designs are suit for.
After receiving questions about the designs and how suitable they would be to cut using higher RI materials I have checked the optimization of each design up to a maximum RI of 2.45. The majority of the designs will work well with no angle changes. The remaining designs I have now optimized to suit a higher RI range.
In the following supplement I have presented each design with: a rendering at RI = 2.30, new angles where applicable and a new recommend RI range. All renderings are using 10 degrees of head shadow.
I hope you find this supplement helpful and enjoy cutting some of my designs in high RI materials.

Copyright © Andrew Brown Gemstone Faceting Designs. All rights reserved.